SSFA Events, Programs, and Seminars Schedule
---
This page showcases the most recent happenings and updates from SSFA. For a comprehensive look at our previous events, kindly follow
2023 "I AM PROUD" ART CONTEST EXHIBITION
---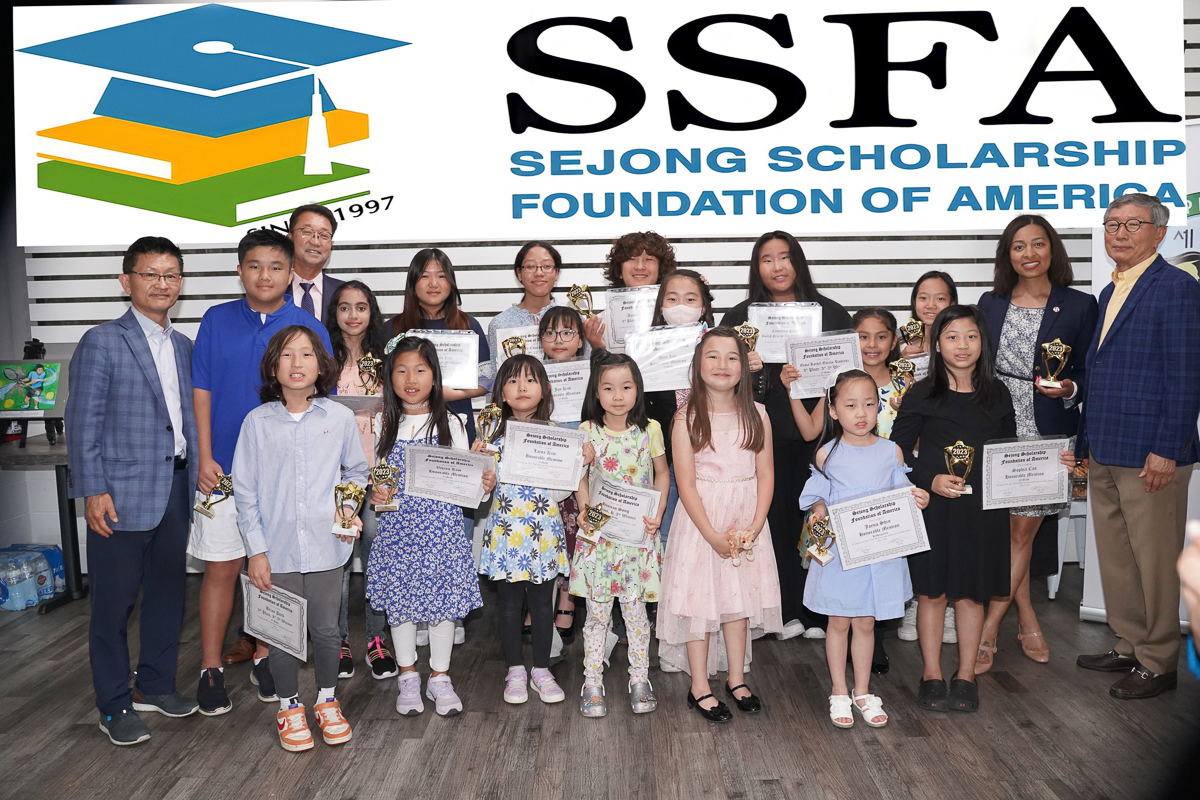 05/07/2023
"Supporting the Growth of Youthful Artistry through SSFA in Baltimore, MD"
The second annual art contest award ceremony and exhibition, coordinated by the Sejong Scholarship Foundation (SSFA) under the guidance of its chairman, John Hwang, was held at the BaySide Cantina Restaurant in Baltimore on the 7th of May, 2023. A total of 30 winners, including Lydia Chandler (10), the first-place winner in the middle and high school category, were honored with certificates and awards. Chandler shared her appreciation, saying, "Through my artwork, I aimed to depict the various shapes and dreams within me based on the 'I Am Proud' theme."
Chairman John Hwang and Director Albert Kim underscored the importance of self-improvement via creativity and imagination in this year's contest. They unveiled plans to create diverse programs suited to each educational stage, ranging from kindergarten to university students, including essay competitions, and committed to providing the foundation's support. Chief Judge Choi Hyun-chil, a former professor at Hongik University's College of Fine Arts, noted, "The students displayed a wide range of unique ideas and creativity. Their willingness to experiment instead of solely relying on artistic techniques was inspiring and promising."
Coordinator Choi Eun-hee stated, "Many students participated and competed with excellent works," and she urged parents to show substantial interest and support their children's entries in the next year. Mandy Remmell, the Director of Community Engagement at Baltimore County, took pleasure in the county government's sponsorship of the longstanding Sejong Scholarship Foundation. She highly commended the foundation's role in enriching the local community through art competitions and various events, and wished for its sustained growth and progress. Parents who attended the event took pleasure in viewing the winning artworks and had enlightening conversations with their children about them.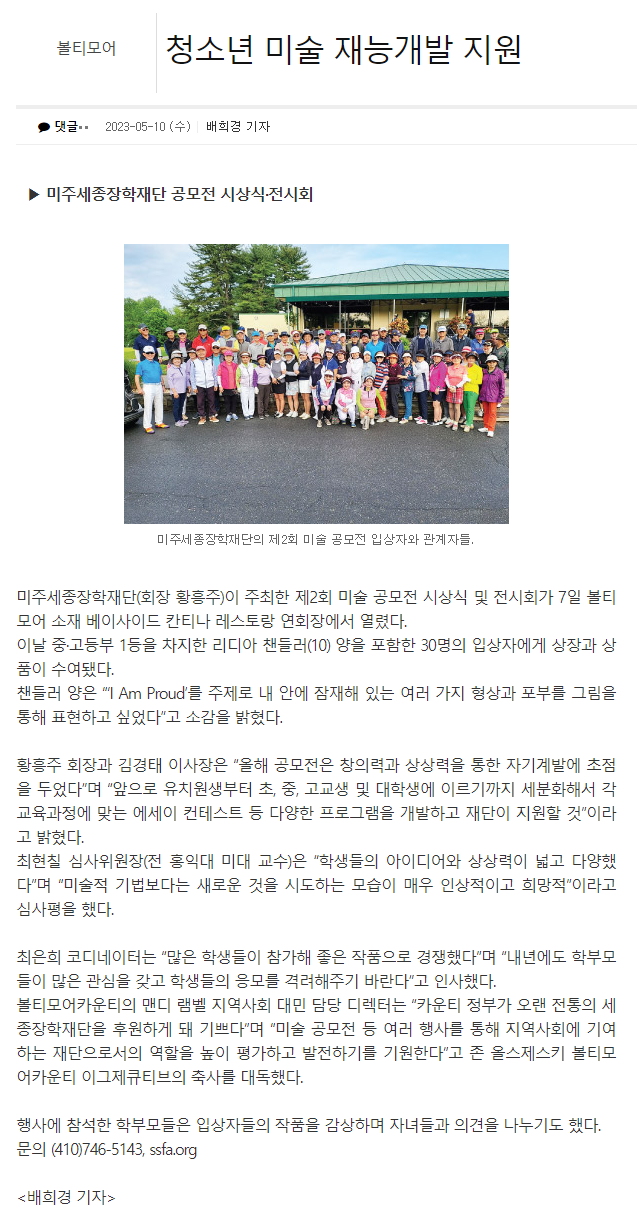 2023 "I AM PROUD" Art Contest
---
Contest Rules

Artwork must be submitted on a 9" x 12" piece of paper.
Each student may submit only one piece of artwork.
Each piece of artwork must have a completed Entry Form attached to the back with tape or glue.
Contestants must submit original artwork postmarked before April 21, 2023 or or drop off their artwork at:

AK & Associates PA
C/O SSFA
3300 N. Ridge Rd. Suite 380
Ellicott City, MD 21043

Entry Fee ($)

FREE!
Donations in any amount to support the next generation will be greatly appreciated. However, it will not increase your chances of winning.

Prizes

1st Place: $100 (4 winners)
2nd Place: $75 (4 winners)
3rd Place: $50 (4 winners)
Honorable Mentions: $10
* SSFA reserves the right to substitute a prize with another prize of equal or greater value.
Judging
Judging will be done in four categories (K~2, 3~5, 6~8, 9~12) with a first, second, and third place winner in each category.
A panel of judges will determine winners through the submission's creativity and portrayal of theme, artwork description, and overall artistic ability and technique.

*For any questions, please email:director@ssfa.org
Ceremony & Exhibition:
Ceremony will be held in-person Sunday, May 7, 2023 at:

Bayside Cantina
2809 Boston St
Baltimore, MD 21224
Doors will be opened at 3:30pm and winners will be announced at 4pm. Light refreshments will be provided.
Please dress smart casual.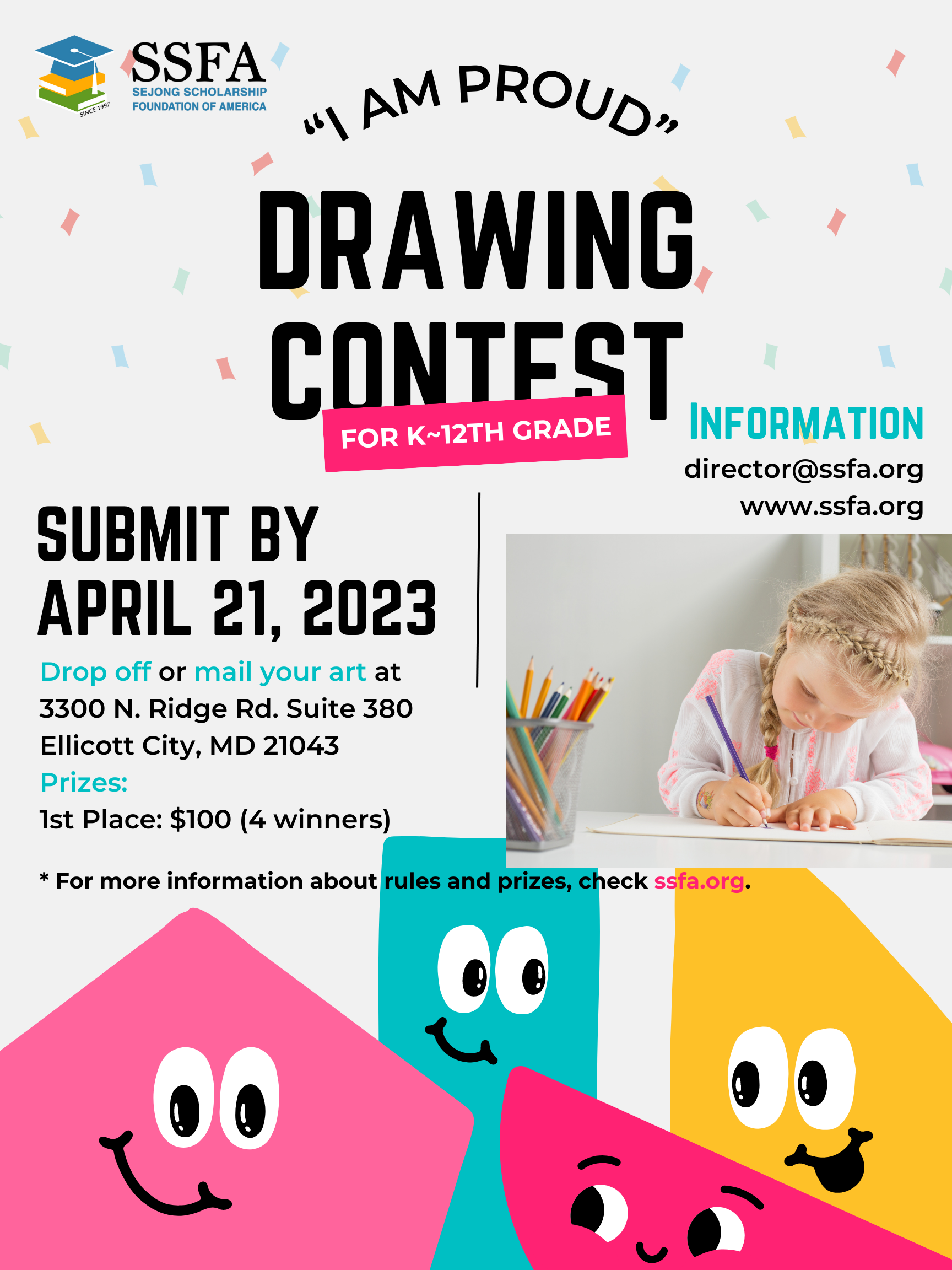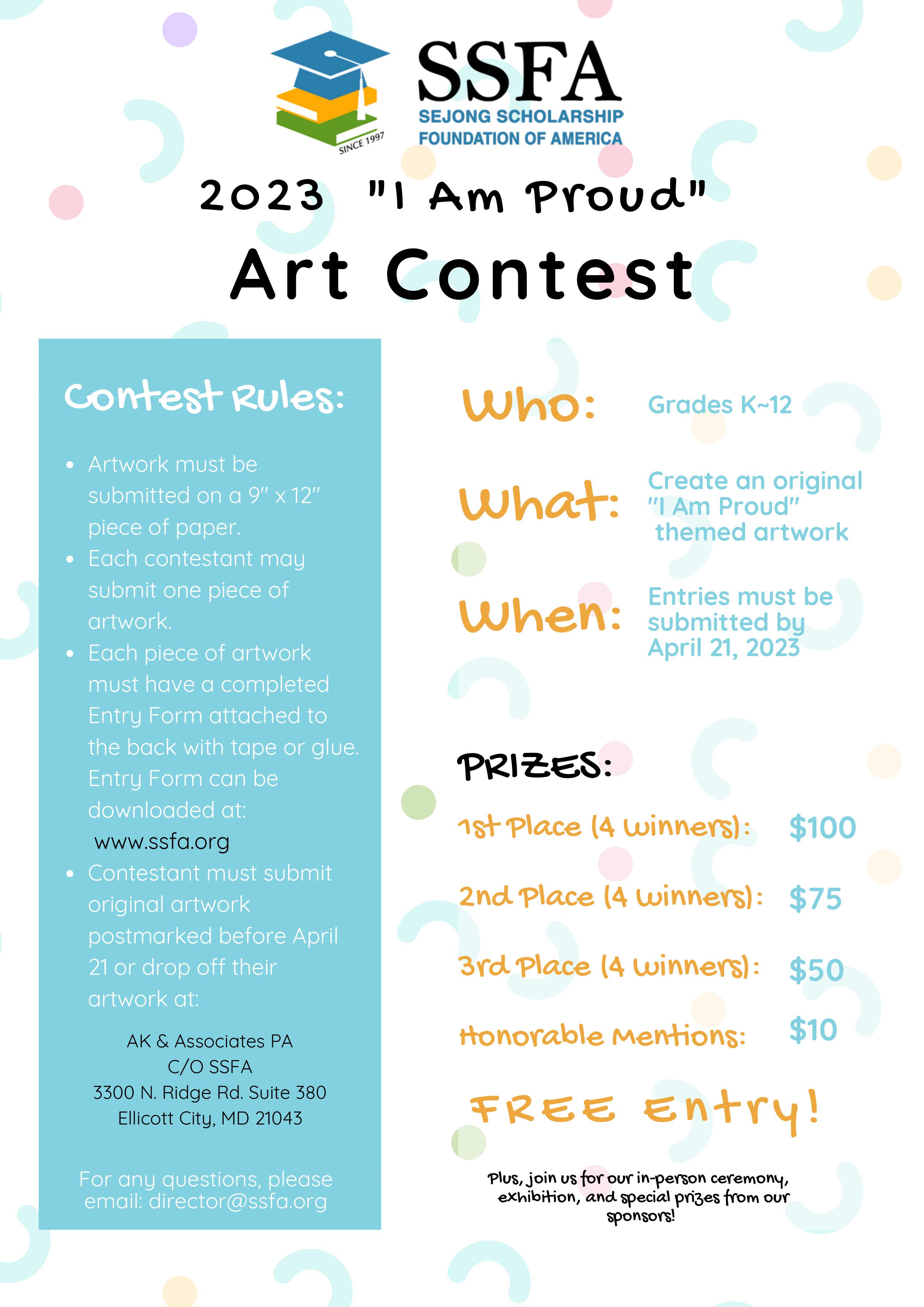 2022 Sejong Scholarship Foundation of America (SSFA) Scholarship Award Ceremony
---
"Never give up on your dreams, and make a challenge"

On November 26th, 2022, the SSFA scholarship award ceremony was held, awarding 31 students (27 Undergraduate/Graduate students, 4 high school students) of $35,500 scholarship. The ceremony was held at the Turf Valley Resort in Ellicott City. $3,000 grand prize was awarded to Ara Ko (MICA), $2,000 prize was awarded to Minsu Kang (George Washington University), Nayoung Kim (University of Maryland, College Park), Daeun Lee (Northwestern University), and Jihyun Lim (Georgetown University). The ceremony was facilitated by Eunjung Ko.

President John Hwang expressed his celebratory remarks and gratitude for the students. "Make a challenge with the dream and vision to create a better world, and live a life that gives back to the community."

Chairman Albert Kim stated, "I am pleased to have SSFA continue its mission for the 25th anniversary, awarding the students in need with the scholarships. We will continue to anchor our mission on supporting the talents that will lead the society."

Maryland First Lady Yumi Hogan gave a opening speech, "Keep the pride as the Korean Americans, and continue your identity". Mrs. Hogan stated, "I have never forgotten about the motherland for the 43 years I have lived in America. Staying aware of our roots and identity is very important." She also continued to give examples of her efforts to advocate about Korean culture, such as the day of Taekwondo, Korean Way establishment, and Korean American Day commemorations. She emphasized, "Do not back up or give up, but continue forward". If you stay true to yourself, you will always succeed."

In the ceremony, Mrs. Hogan presented the Governor's citation to Yongyun Ji, Kyunghyun Yun, Jonghun Kim, and Geumdal Park. President John Hwang presented the appreciation plaque to Mrs. Hogan. Both President Hwang and Mrs. Hogan were awarded the John Olszewski Executive commendation. During the ceremony, selection committee member Professor Yongyun Ji (Towson University, Department of Business) gave remarks of selection, and Ara Ko gave the remarks of award. Founded in 1997, SSFA has awarded $618,000 to 641 High School and Higher Education students.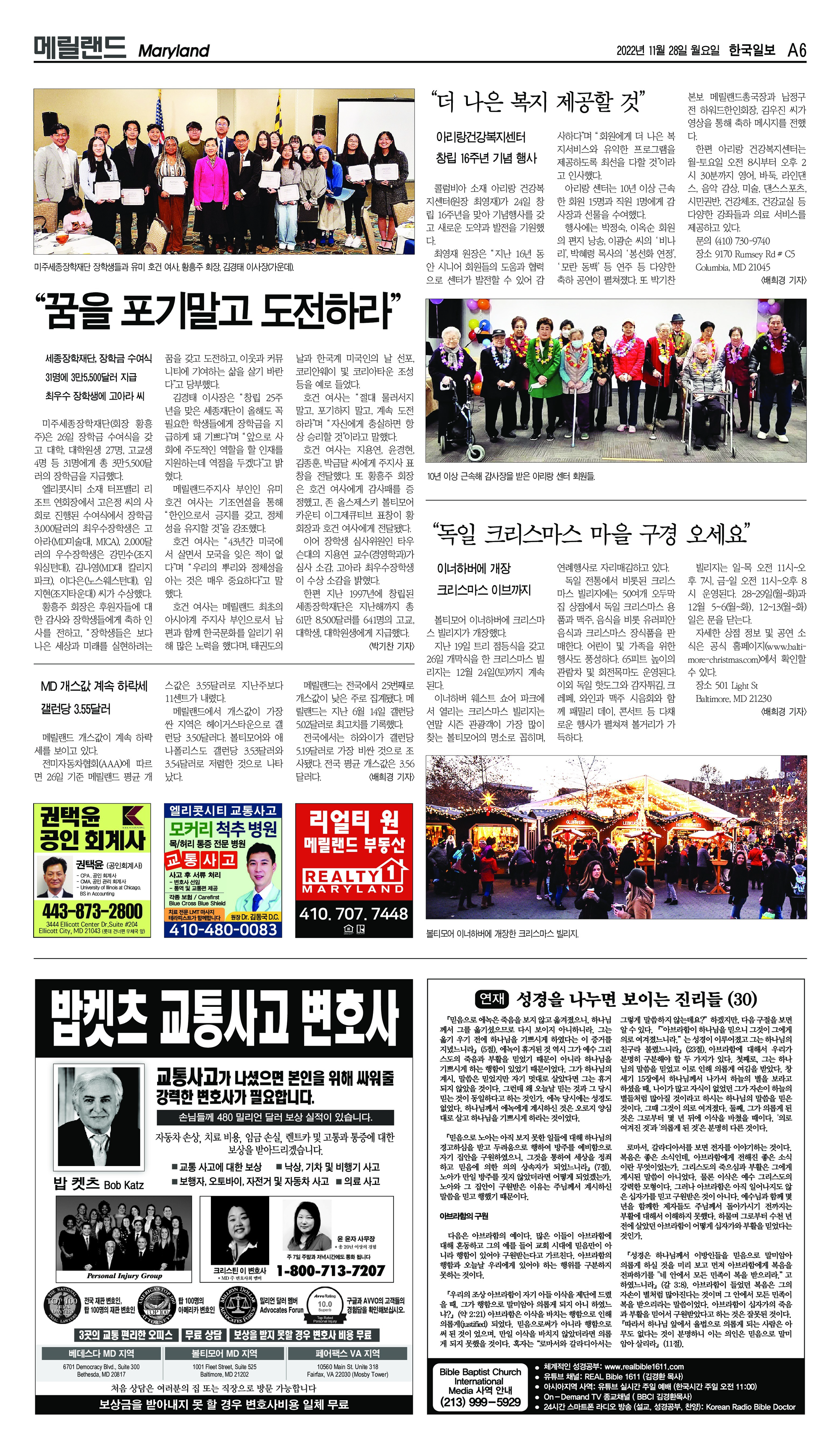 The 23th-year scholarships were awarded to 31 students, including Mrs. Hogan, at an award ceremony held at the Turf Valley Resorts and Conference.
For a deeper dive into our past events, please follow